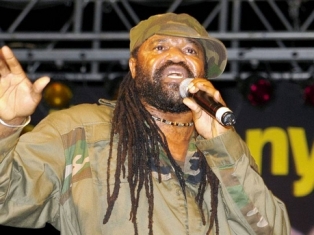 Patrick Anthony Barrett a veteran on the Jamaican music scene you know him as Tony rebel the guerrilla.
DJ I'm having a wonderful relationship with life and I have no intentions of divorcing her which means you're not
afraid to die I am not afraid to die but I am really enthusiastic about living so I'm into life I don't think about that,
because if that should happen then he wouldn't even know that it happened so I think about what is reachable and
touchable and that is life that's what that's where I'm at don't believe in reincarnation I do have.
some believe in that but remember that belief is also different from knowledge so I don't really know fully but I
believe that once life leave the body it go it can go into other places and live I see the light like a flashlight
battery the kabocha imprinted in our neck / light it can shine you know and I'm just looking at like how my mother
look and look at some of my children and look at their behavior pattern yeah look at softness forward in our DNA not
knowing you hail from the best parish in the country yes ma'am Manchester yes.
what is so special about being from Manchester when you and on Figueroa mountain or the carpentras Mountain when
you grow among trees where you give them carbon dioxide and them give you oxygen and you have that relationship continuously,
it does something for your personality when you watch plants grow when you watch seed plant and then it takes some
time to germinate it and come forward and you watch it till it bear fruit does something to you when you live in an
environment where people tell each other how they do and acts how are you doing and and asks for things with the prefect
the prefix please and say thank you after makes a difference it is in the center and people need to find their.
center so if you find yourself in the center you're centered so a lot of us comedians are know doing pieces speaking
to Jamaicans and wanting to average American experience and speaking their understanding of the Jamaican.